FRIDAY
!!! We made it y'all. If you're like me, this is the first full week I've worked in a
looonng
time, and I didn't know if today would ever come, but it did! Whoo Hoo!!!
Yeah, I kinda
like
love Fridays!
Don't give up trying to do what you really want to do. Where there is love and inspiration, I don't think you can go wrong. #lifelessons
If you are here to link up with #theFridayfive, welcome! The link up is at the bottom of the post. If you don't mind,
please
grab my button and put it in your post somewhere. I'd
love
it if you did.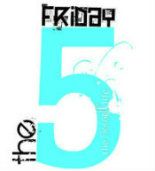 the Sowell life's Friday five...
1)
I ordered my first pair of
TOMS
right after Christmas, and they finally came in this week! How cute are these?! And, I have to give credit where credit is due... a
HUGE
thank you to
Abby
for helping me pick out my first pair!! (
And yes, I really wish she would start blogging again! Pretty please??
)
2)
So, I went to the dentist on Wednesday for a cleaning, and apparently I have the worst teeth on the planet. No joke. You know it's bad when they say they'll send you a "
treatment plan
". Yep, panic sets in! But, the Mr and I decided we will take it one step at a time. I mean, who really gets
6
crowns in the
same
year... much less
4
at the
same
time. Not this chick! Thankfully, nothing is hurting (
knock on wood
) and the reason for the work is to prevent any issues that
might
arise in the coming months/years from all the previous work I've had done over the years. I'm thankful for great insurance, and my dentist from a few years ago, Holly, who is walking me through all these steps. #iwonderwhyidespisedentalappointmentssomuch
At least I got a new travel care pack after my cleaning!
3)
I finally learned how to pull the new ride in the garage in my bay without having to back up and try again. (
It only took about two weeks
!) Yes, this is a
major
accomplishment in my book. My Accord was easy breezy to wheel in and out, and with any new vehicle you freak out because
hello
, it's new! This thing has so many bells and whistles that if you get close to something anywhere near the outside of the vehicle, it goes crazy! And I'm happy to report, no bells went off when pulling in last night. #finally
4)
We have a semi free weekend, and I might be a little excited about this. Don't get me wrong, I love entertaining and having a weekend full of plans, but sometimes you just want a weekend that's lived in pajamas.
Am I right
?! We have a few things that needs to be finished before the weekend is over, but I can guarantee that all those things can be done in pajamas. #neighborsbeware
5)
Y'all the neighbor behind our house
STILL
has her Christmas tree up. Better yet, it's still
LIT
! I haven't driven down that particular street to see if any outside decorations are still up
and
lit, but really it's
Jan 11th
. Time to take down the tree... and if you can't bare to take it down, at
least
unplug it!
***Thanks to the handy dandy high powered zoom the Mr got me, you can even see the ornaments on the tree.***
And
now on to more important things... our front door looks bare now that all the Fall and Christmas decorations are put away. I have a really cute Mardi Gras wreath, but is it too early to put it out? Any suggestions on what I should do until it's time for pretty flowers, ferns and springtime wreathes?
Y'all have a wonderful Friday, and an even better weekend!!