Another work week is in the books!
Hallelujah
! We have a busy weekend ahead of us, but nevertheless... it
is
a weekend, y'all!
Everything is possible for the person who believes.

#lifelessons
If you are here to link up with #theFridayfive, welcome! The link up is at the bottom of the post. If you don't mind,
please
grab my button and put it in your post somewhere. I'd
love
it if you did. And if y'all notice, it no longer looks like a bunch of distorted pixels! Thank you so much
Suze
!!! She was so sweet to volunteer her time, and she had it done in a snap!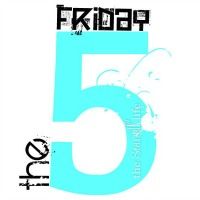 the Sowell life's Friday five...
1)
We veered off our weekly menu this week. I know, I know... I'm just as upset as y'all are.
BUT
, we didn't want to go to the grocery store to actually "
grocery shop
" because of all the rain and cold. So we made use of what we had in the house, and I had the Mr stop in and pick up one or two items. And since we didn't have everything we needed for lasagna, we had homemade tacos instead! And since we didn't want to stand on the deck to fry chicken in the freezing cold, we had italian baked chicken.
2) We were suppose to have guests at the house Wednesday and Thursday, but the weather kept them off the roads. And since y'all know how much we love to cook and entertain... yep, we were bummed. Oh well, there's always next month!
3)
I love my job. However, we have one bathroom for the ladies and one for the men. (
The owner of course has his on.
) This brings a problem when some like to stay and "
ponder
". So I have an issue... and there's no other way to say it but, it STINKS. There's only so much "
covering
" up that smell that one can take before it basically makes one want to vomit. (
aka, me
) And there's only so much "
non covering
" up of the smell that one can take. (
me, again
) Now, please understand that I'm not the only one who has issues with this at the office. I bought the Wal-Mart version of the scentsy stuff and placed it in the middle of the office and everyone loved it, but one. I've also bought
Poo Pourri
and either they don't use it or spray it too many times in the toilet and you almost black out when you walk in from the over kill. My question is, how do y'all deal with this in your office?
4) We saw SNOW yesterday!! This bought out the little kid in the Mr and I. Check out these excited SNOW faces!
And of course, since we see snow, maybe once a year... we stared out the window at Chick Fil A and just watched it coming down during our lunch. I love sharing these fun times with the Mr. Our first ever snow day together can be found
here
.
After the Mr dropped me off back at work, it REALLY started coming down. And me and the girls went out to play in it at work! Just an FYI... I. LOVE. SNOW.
5) I seriously LOVE snow, and it just might be my favorite topic of this Friday five post! Enjoy more pictures, y'all! The new ride got a nice little snow bath, the trees looked like they had crystals on them, and the little snow accumulation made me smile!
Well, that's the Sowell life's #theFridayfive... ready to link up?! I can't wait to see what y'all are posting about today!
And Happy Weekend y'all!!