Hey y'all! I'm excited to continue my travel themed guest posts while I'm on vacation with my sweet friend Jessica, from
Bluebird Sisters
. I've had the privilege to meet her in person, and she's just as funny in person as she is on the blog! Thanks Jessica for your advice, and for letting your personality shine through your words!
••••••••••••••••••••••••••••••••••••••••••••••••••••••••••••••••••••••••••••••••••••••••••••
I am SOOO excited to be guest posting for Joy! I'm jealous that she is sitting on the beach, but very happy she asked me to do this!
My name is Jessica and I blog over at
Bluebird Sisters.
I am married, have one daughter I lovingly refer to as The Bird, and 2 furbabies.
But let's get to it...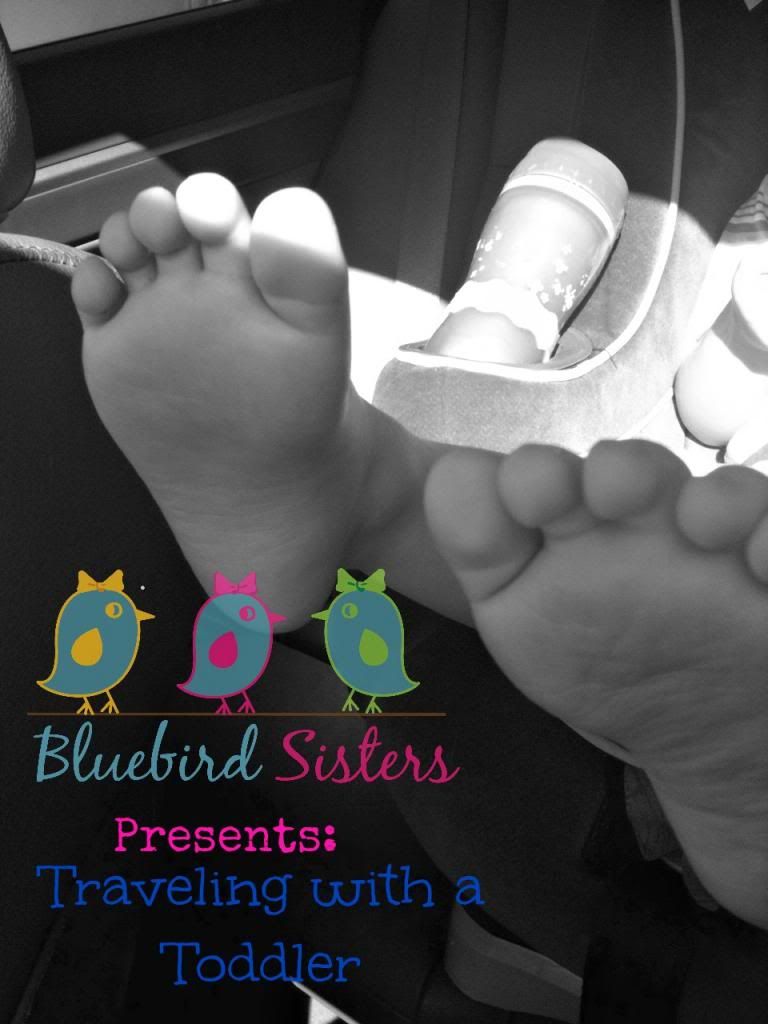 Thank goodness it's toddlers and not infants. Man oh man, we would have been here for days. But seriously. If you travel with an infant - ONLY go to family. And MAKE them have everything you need. It will save you stress, money, time, and you might actually get a chance to breathe! They need to be thankful you made the trip! So, now on to toddlers. After the age of 1(maybe 2 if you're lucky), airlines require you to purchase an extra ticket for children. Some airlines even require certain seating - whether it is your own car seat, or special airline seats - so make sure to check prior to purchasing tickets. If they give you an option, choose your own car seat - most likely you will need it where ever you are headed, right? Because of the extra cost, most people drive! WOOHOO! Long car rides with little people learning to control their bladders. Awesome. So a few tips that I have learned are
*drum roll*
1. Engage them in conversation.
In the beginning of every trip, excitement is high. Later when stress is high, people want out, that is when they can rest quietly. So talk to them once the car is started! Get them tired to they will rest. Even if it means singing Under the Sea a million times, or going through Old Mac Donald's farm till there are dinosaurs...you will be thankful later.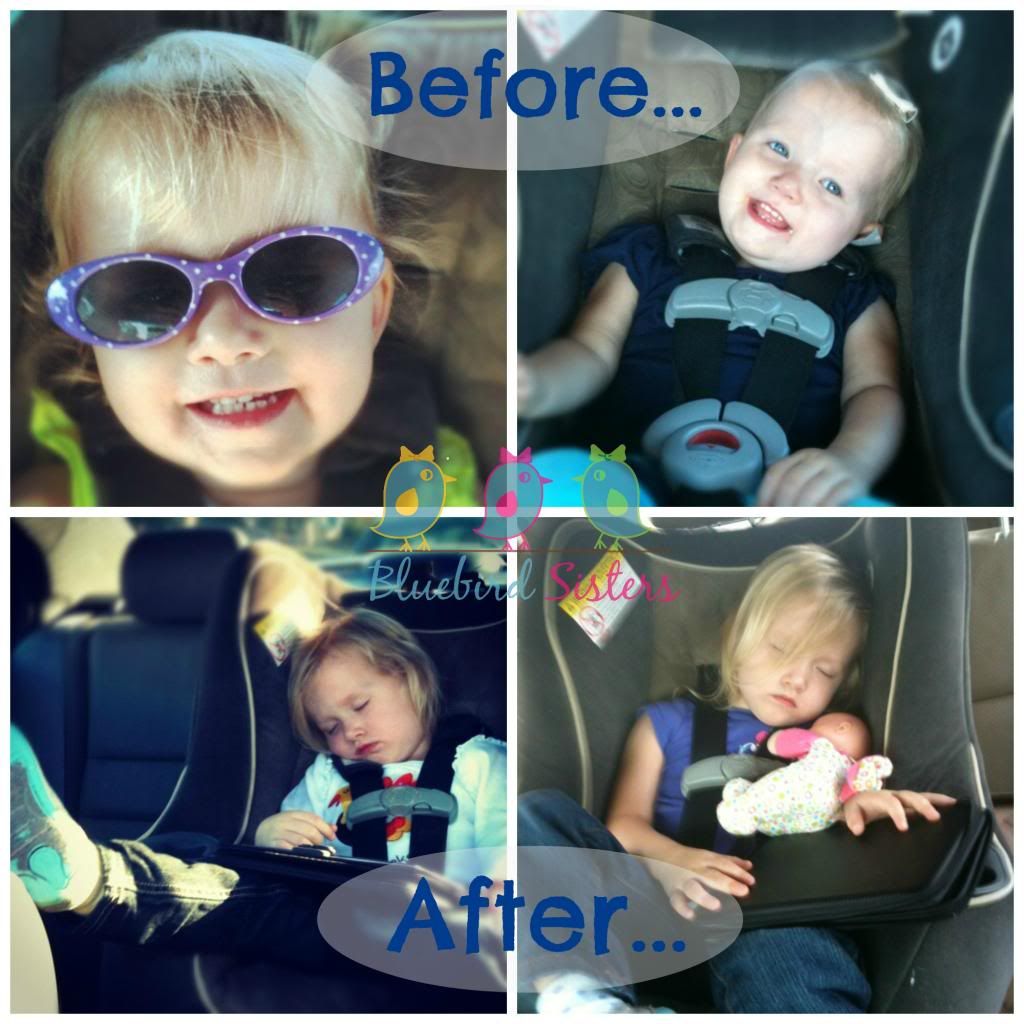 2. Have things in the front seat.
I have actually made a long trip alone with The Bird before. Since I was by myself, pulling over was not an option. So I made sure to have extra snacks, an extra sippy cup, books, toys, you name it - there were 2 of everything and I kept one! If your spouse is with you, it makes things a little easier. But still always nice to not have to try and be Inspector Gadget and reach back.
3. Plan around naps.
If you're one of the lucky few that has a curtain crawler that naps, take advantage! Plan your trip so that majority of the time will be spent sleeping or at least quiet and relaxed. You know the saying Happy Wife = Happy Life, well when it comes to vacations - Rested Kid = Happy Mom.
4. Try not to stress.
Hard I know. I struggle with it. But let's be honest. You can plan to your heart's content, but you can't plan for traffic, 4 potty stops in 1 hour (true story), weather or meltdowns. Just relax.
Allow extra time
. Plan for setbacks, and realize that for whatever reason you are traveling - it's a time with your kids. A time for memories. New experiences for them. Maybe seeing family you haven't seen. Breathe. Enjoy.
(And don't chance it when they say they have to pee.)
Oh and there is a bright side - you will learn all you need to know about restrooms. Where to stop, and where not to stop! :)
If you're in Texas ALWAYS look for a Buc-ee's.
5. Lists
If you are like most women, you will pack for your ENTIRE family - husbands included! What I do a day or two in advance is make a list of everything I use, kids use, hubby uses - and TA-DA there is my packing list. I also always pack my daughter the night before. One less person to worry about. Also, try putting your suitcases out, with the lists on top - with a pen! Then you are fully prepared and can mark off as you load things in.
6. Dress Comfortable
Long car rides = squirmy, unhappy kids. Dress them in easy to wear clothes. Let them take their shoes off. Don't worry about hair. Make them as comfortable as possible, so your drive/ride can be the same.
Great toy/entertainment ideas:
Magna Doodle Lace toys Electronics - tablets, phones, leap frog toys Board books I-Spy games - tons of ideas on Pinterest for older kids Playdoh filled balloons A children's music CD - should boost their spirits for a little bit :) A new toy is always fun too! And don't forget any loveys or any other "special" toy that must go along. Thanks for reading. It can be stressful traveling with children, but just remember you are creating their memories. They won't remember you forgot their socks, toothbrush, or that you didn't sleep - But they will forever remember the experiences!

PS - NO. We haven't gone to Disney...just influencing her as much as possible!

Be sure to follow Jessica here, too:
Twitter
//
Pinterest
//
Instagram